These librarian-selected web sites offer curriculum suggestions, sample worksheets and assignments, and other resources for teachers:
abcteach.com – More than 5,000 free printable pages and worksheets.
Awesome Library – K-12 Education Directory – Awesome Library organizes the web with 27,000 carefully reviewed resources, including the top 5 percent in education.
Education Place – Pre-K–8 resources for teachers, students, and parents.
E.L. Easton – English – Exercises, Quizzes, Tests – Contains anagrams, web quizzes on many subjects, tools for quiz making, assessments, and more.
Free Blank Outline Maps of the Countries and Continents of the World – From About.com's geography section.
Kathy Schrock's Guide for Educators – A categorized list of sites useful for enhancing curriculum and professional growth.
Learn to Read at Starfall – Resources for teaching reading comprehension and phonics.
Michigan Online Resources for Educations – Statewide resources on best practices, professional development, and specific curriculum areas.
Noodletools – Free educational tools, including a guideline for which search engine to use for various tasks.
ReadWriteThink – Provides educators and students with access to the highest quality practices and resources in reading and language arts instruction through free, Internet-based content.
School-Home Links – A collection of research-based activities designed to help families reinforce the reading and language arts skills that their children are learning at school, from the U.S. Department of Education.
TeAch-nology.com – A web portal for educators, offering a free newsletter.
---
Library Databases
If you have questions about these databases, please contact the Reference Desk at (734) 475-8732.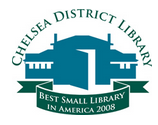 Culturegrams – Concise, reliable, and up-to-date country reports on 187 cultures of the world. For grades 3-12.
Encyclopedia Americana – In Library Only – Online verison of the encyclopedia aimed at kids in grades 8 & up.
Grolier Multimedia Encyclopedia – In Library Only – Based on Grolier's 11 million-word repository of text and images.
New Book of Knowledge Online – In Library Only – Online version of the encyclopedia aimed at kids in grades 3-8.
Opposing Viewpoints Resources Center – An online library of current event topics — the facts, as well as the arguments, of each topic's proponents and detractors.
View All library databases
---
Assignment Alert Form
Give the library staff a heads-up about upcoming assignments that may bring a lot of students to the library with the Assignment Alert Form.
Teacher Library Cards
Teachers are eligible for Chelsea District Library cards with extended borrowing privileges. Download the application and instructions:
If you have any questions or comments, please feel free to contact Karen Persello, head of youth and teen services, at (734) 475-8732 ext. 228, or Click Here to send her an email.